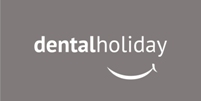 Dental Holiday

Dental clinic in Bratislava, Slovakia
About Dental Holiday
Dental Holiday (Smile Clinic Slovakia): Dental clinic in Bratislava & Piestany, Slovakia
Dental Holiday, a strictly private clinic in Slovakia provides all standard cosmetic and restorative dentistry, including root canal treatment, dental implants and an option of "sedative/deep sleep" treatment and the services of dental hygienists.
It maintains the highest standards in terms of hygiene, cleanliness, and ambience which they believe is of a similar or higher standard than private dentistry facilities in Great Britain. The clinic offers clients a friendly atmosphere, luxury environment and painless treatment.

They only use the best and highest quality materials which are sourced from Germany, Austria, England, Switzerland, Japan and the USA and are EU certified. Their services and materials are fully insured and all treatments come with a two-year guarantee.
Because average salaries in Slovakia are a third of that in the UK, the Dental Holiday can provide low cost, high quality dental treatment at up to 70% less than similar treatments in Great Britain. The costs involved make combining dental treatment and a relaxing spa holiday a very attractive and viable option.
Dental Holiday has the most comprehensive package you'll find on the European Continent.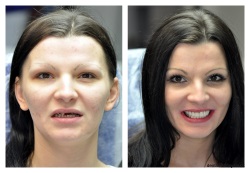 "My treatment (8 unit bridge) required 3 visits to the clinic, one for 2 hrs, the other two were a matter of minutes. We could not have been in better hands. The clinic surpasses any I've visited here at home. I am absolutely delighted with the end result. The wonderful thing is how natural they look"
Treatments available
The clinic offers a full range of state of the art general, restorative and cosmetic dentistry procedures.
If the treatment you require is not listed, please contact the clinic who will do their best to accommodate your request.
| | |
| --- | --- |
| Treatment | £ |
| Consultation | free of charge |
| Dental X-ray | free of charge |
| Digital CT scan | free of charge |
| Temporary crowns, bridges, veneers | free of charge |
| Dental Hygiene | 67 |
| White Composite Filling | 87 |
| Implant Ankylos ( 5* Implant ) | 397 |
| Implant Abutment | 197 |
| Implant ( Zirconium Crown ) | 297 |
| All inclusive Implant Price | 891 |
| Zirconium Crown ( all ceramic ) | 297 |
| Porcelain Fused to Metal Crown | 197 |
| Porcelain Veneers | 297 |
| Porcelain Inlay | 297 |
| Root Canal Treatment/per canal | 87 |
| Tooth extraction | 47 |
| Wisdom tooth extraction | 107 |
| Tooth Whitening ZOOM | 327 |
| Tooth Whitening Opalescence, Beyond Whitening | 247 |
| General anaesthesia (narcosis) | 680 |
Guarantee
The clinic gives a guarantee on implants and cosmetic dental works which is in line with or in some cases exceeds international standards. In the case of implant failure their dentist will replace the implant at no additional cost to you. The guarantee applies to your dental work as follows:
Implants lifetime
Bridges, crowns, veneers 5 years
The guarantee is only valid if their dentist completes the full work (places the crowns and / or bridges as well).
Smile for free
Dental Holiday leads the way in Central Europe by providing FREE dental treatment to people suffering from severe misfortune due to violence & disasters. Through the Smile For Free program, Dental Holiday educate and treat underprivileged and abused Slovak children and adults free of charge so that they may reclaim their smiles, their self-esteem, and, ultimately, their lives.
New Clinic in Bratislava
Smile Clinic
Tower 115, Pribinova 25
Bratislava 811 09
Slovakia
Compliant with the Code of Practice for Medical Tourism
Dental Holiday have demonstrated their compliance with the Treatment Abroad Code of Practice for Medical Tourism, following a review by external assessors.
Find out more about the code of practice