Treatment abroad : Cyprus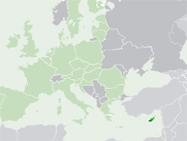 Cyprus offers high standards of private healthcare and dental treatment at a very competitive cost. It's an excellent location to consider for low cost dental implants and cosmetic dentistry. The Cyprus healthcare system has improved tremendously and is something that both the administration and the practitioners can be justifiably proud of. The Cyprus Health Promotion Board brings together healthcare providers across Cyprus to deliver services to residents, holidaymakers, visitors and travelling patients.
The north side of the island is not ruled by the regulation of the official Cyprus government or the EU.