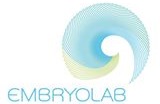 Embryolab

Infertility clinic in Thessaloniki, Greece
About Embryolab
Embryolab is an IVF Unit in Thessaloniki, Greece. They cater for couples who are experiencing fertility problems, offering a range of infertility and assisted reproduction treatments including IVF, ICSI, egg, embryo and sperm donation, PGD, IUI and micro TESE.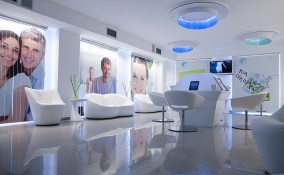 Embryolab is one of the most advanced assisted reproduction units in Europe. It has a team of top specialists in fertility care and delivers a comprehensive range of top quality infertility treatment services. There are no waiting lists for sperm, egg and embryo donation treatments, which facilitates rapid results with minimum inconvenience to patients. The costs of treatment at Embryolab are affordable to suit your family budget.
Experience and expertise
The staff at Embryolab comprises distinguished physicians and embryologists, who are highly qualified and experienced in the fields of reproductive medicine and infertility treatment. Many of their specialists and laboratory technicians have been trained at highly respected UK hospitals and institutions. At Embryolab they have extensive experience with international couples seeking high quality treatment at prices that represent excellent value for money.
Innovative treatments for better success rates
They have extensive experience and expertise in the development of preimplantation techniques, and they continually evaluate and adopt new methods of treatment. Coupled with their excellent pregnancy and "take home baby" success rates is testament to the excellence and quality of their services.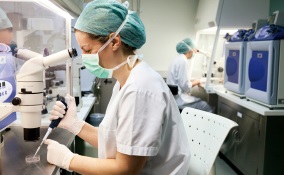 The state-of-the-art laboratory at Embryolab was designed according to international standards. It combines strictly controlled laboratory conditions with new generation culture media and improved technology equipment. These factors ensure ideal conditions for in vitro growth and development of human gametes and embryos.
Designed to make you feel at ease
When you visit Embryolab you will find a welcoming atmosphere, with a personal service from specialists and support staff alike. They want you to feel relaxed comfortable and safe in an ultramodern, optimistic and friendly environment.
At Embryolab they are always ahead of the game. Their innovative fertility services and favourable conditions make for the achievement of better results. At Embryolab they have a 360 degree approach to treatment – with excellent success rates the reward.
Treatments available at Embryolab
Fertility and assisted reproduction services include:
Blastocyst Embryo Transfer
Assisted Hatching (AH)
Donor Insemination (DI)
Egg Donation
Embryo Donation
Frozen Embryo Transfer (FET)
Gamete Intra-Fallopian Transfer (GIFT)
Immune and Anti-Coagulant Therapy
In vitro maturation (IVM)
Intra Cytoplasmic Sperm Injection (ICSI)
Intrauterine insemination (IUI) stimulated
Intrauterine insemination (IUI) unstimulated
In-vitro fertilisation (IVF)
Surgical sperm retrieval (PESA; TESA; MESA)
Zygote Intrafallopian Transfer (ZIFT)
Preimplantation genetic diagnosis (PGD)
Preimplantation genetic screening (PGS)
In-vitro fertilisation (IVF) with egg donation
Early Embryo Viability Assessment (Eeva) Test
Egg Freezing
Languages spoken
English
Greek
French
German
Italian
Spanish
Russian
Serbian
Treatments
Contact details
Medical tourism news
More news >