PROFILE
Dr Serkhan Ayhan is a highly experienced general surgeon specialising in obesity surgery, metabolic surgery (anti-diabetes type II surgery) and acid reflux surgery. Working with A grade private hospitals in Istanbul, Izmir and his base in Tekirdag (45 minutes from Istanbul Ataturk Airport) , he offers a personalised and supportive service for international patients seeking effective weight loss solutions and relief from gastroesophageal reflux disease (GERD) in Turkey.
Training and experience
Dr Serkan Ayhan graduated from the Cerrahpasa Medical Faculty at Istanbul University in 2003 and completed his surgery training at Bakirkoy Sadi Konuk Education & Research Hospital in Istanbul in 2009.
Following general surgery appointments at Salihli Private Can Hospital in Manisa and at Torbali Private Medifema Hospital in Izmir, he moved to Cerkezkoy Optimed Hospital in Tekirdag in 2016 where he ran the Bariatric & Metabolic & Anti-Reflux Clinic before opening his own clinic in 2018.
Dr Ayhan's thesis was based on the study of obesity and reflux patients. A highly experienced surgeon, he has performed more than 1000 obesity and anti-reflux procedures and has compiled a measurement report on the evaluation of patients pre- and post-operatively. He is fully trained in laparoscopy, endoscopy and the latest open surgical techniques.
Committed to strong experience and safe surgery, Dr Ayhan stays abreast of new developments in his field, extending his professional experience and attending congresses such as the National Surgical Society Medical Congress in Antalya in 2004 and the IFSO World Obesity and Metabolic Diseases Congress in 2013.
Treatments available
Obesity & Metabolic Surgery
Also known as bariatric surgery, obesity surgery is the most effective method to treat an obesity problem. Suitable for patients aged between 18 and 65 with a body mass index (BMI) starting from 35 and an obesity problem of more than five years standing, the surgery is associated with a significant reduction in mortality rates and reduction in the diseases associated with obesity such as diabetes, hypertension and sleep apnoea.
Contraindications to obesity surgery include a severe eating disorder, addiction to drugs, alcohol and stimulants, serious systemic diseases, underactive thyroid, diseases affecting the upper digestive tract, a serious psychiatric problem, the need for regular use of anti-inflammatory drugs and if pregnancy is planned within one year.
Dr Ayhan provides a range of obesity surgery procedures, always tailoring treatment to each patient's individual circumstances and needs: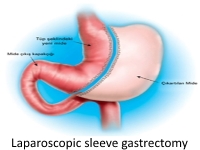 Laparoscopic sleeve gastrectomy: a keyhole procedure that reduces the size of the stomach and removes the portion of the stomach that produces the appetite hormone ghrelin. Laparoscopic sleeve gastrectomy is associated with rapid healing and minimal post-operative pain. It has an 85% success rate for type II diabetes, hypertension, dyslipidemia and sleep apnea.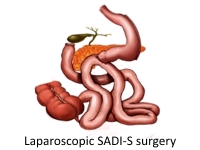 Laparoscopic SADI-S surgery: considered the most effective and permanent of the weight loss surgery techniques, especially in the treatment of morbid obesity and type II diabetes, the latter of which is eliminated completely. Protein, vitamin and mineral loss are less common with SADI-S surgery compared to other gastric bypass procedures and, as the pylorus muscle is not affected and the stomach volume is not too small, there are no difficulties with the patient's eating following surgery.
Laparoscopic gastric by-pass (Roux-en-Y): suitable for people who are severely overweight (BMI 40 or higher) or who have a BMI of 35 or higher and have a life-threatening or disabling problem related to their weight, this technique significantly reduces the size of the stomach and causes food to bypass the upper portion of the small intestine. Although effective, Roux-en-Y gastric bypass can lead to mineral and vitamin deficiencies and help from a dietician may be needed to plan meals following the surgery. Some patients may also need to take vitamin B12 supplements.
Laparoscopic ileal interposition with sleeve gastrectomy: a specific form of surgery used to treat type II diabetes solely in patients who have a pancreatic insulin reserve. The procedure works by disabling the hormones that cause insulin resistance and increasing the levels of the hormones that increase insulin sensitivity. Ileal interposition eliminates type II diabetes permanently and does not result in the vitamin and mineral deficiencies that can occur with obesity surgery bypass operations.
Intra-gastric balloon: this non-surgical, reversible option involves a soft balloon filled with air or saline being placed in the stomach via a thin tube. Left in place for up to six months, the balloon means that the patient cannot eat as much before feeling full.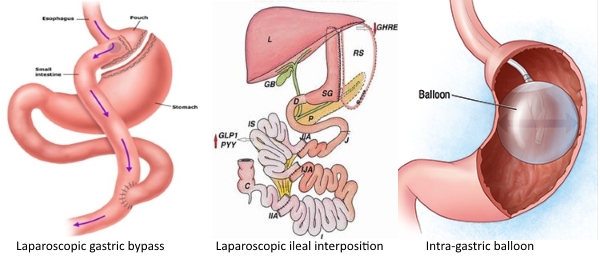 Anti-reflux (GERD) Surgery
Acid reflux or gastroesophageal reflux disease (GERD) is a condition in which food or stomach acid travels back from the stomach into the oesophagus, often because the ring of muscle where the oesophagus meets the stomach (lower oesophageal sphincter) has become weakened. The condition can also be exacerbated if a hiatal hernia (stomach bulging through a weakness in the diaphragm muscle into the chest cavity) is present. Symptoms include heartburn, burping or difficulty swallowing food and fluids.
Dr Ayhan is an expert in the treatment of GERD. Using a keyhole procedure known as Laparoscopic Floppy Nissen Fundoplication, he initially repairs any hiatal hernia that is present and then reinforces the closing function of the lower oesophageal sphincter by wrapping the upper part of the stomach around the end of the oesophagus with stitches.
Laparoscopic Floppy Nissen Fundoplication has a success rate of 99%, with patients finding that their symptoms have disappeared completely on the day following surgery. The keyhole nature of the surgery means that post-operative pain is minimal and recovery is rapid.

General surgery
Dr Ayhan also performs a wide range of other general surgery procedures including gallbladder surgery, appendix removal, gastric and colorectal cancer surgery, thyroid surgery, hernia surgery, mastectomy, pilonidal sinus surgery, anal fissure and fistula surgery, haemorrhoid surgery, endoscopy, colonoscopy and percutaneous endoscopic gastrostomy (PEG).
International patients
Dr Ayhan works with A grade private hospitals in Istanbul, Izmir and Tekirdag to provide high quality, affordable obesity, metabolic and anti-reflux surgery to overseas patients. Patients are personally supported by Dr Ayhan and his team throughout their stay, whichever city they choose to have their treatment in.