PROFILE
Dr. HE Obesity Clinic in Istanbul, Turkey offers expert assessment and surgical treatment for obesity from leading bariatric surgeon, Assoc Prof Dr Hasan Erdem, and his team. With extensive pre- and post-operative counselling and a one-to-one patient-orientated approach, the clinic is committed to finding the best treatment solution for each individual case. All surgery is carried out at partner hospitals in Istanbul. Treatment options available include sleeve gastrectomy, gastric bypass and non-surgical weight loss (gastric balloon).
About Dr Hasan Erdem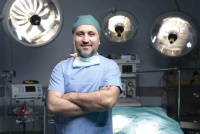 Assoc Prof Dr Hasan Erdem is one of Turkey's leading bariatric surgeons and has performed more than 5000 weight loss surgeries to date.
Dr Erdem qualified from the Istanbul Medical School of Istanbul University in 2002 and completed his specialist training in general surgery at Bezmialem Vakif Gureba Teaching Hospital in Istanbul. Following his national service at a government hospital, he worked as Chief Assistant in General Surgery at the Training and Research Hospital of Istanbul, where he carried out research into advanced laparoscopic and robotic surgery.
Dr Erdem established his private clinic in Istanbul in 2016. The author of a number of scientific publications in the fields of obesity, metabolic and robotic bariatric surgery, he was granted the title Associate Professor of Obesity and Metabolic Conditions in 2018.
Read what patients have to say about Dr. HE Obesity Clinic on Trustpilot
Treatments available
Gastric sleeve (sleeve gastrectomy)
Gastric bypass
Mini-gastric bypass
Revisional surgeries
Gastric balloon
Sleeve gastrectomy

Sleeve gastrectomy or gastric sleeve, is a keyhole procedure to remove approximately 80% of the stomach, including the area where the hunger hormone, ghrelin, is produced. The resulting smaller gastric volume and loss of appetite thus leads to rapid weight loss.
Sleeve gastrectomy is suitable for people aged between 18 and 65 who have failed to lose weight by means of diet or exercise and who have a BMI of 40 or higher. It may also be considered in patients with a BMI of 35-40 who have co-morbidities such as diabetes, hypertension or sleep apnoea.
With the lowest complication risk and highest lifelong comfort compared to other methods, sleeve gastrectomy has become the favoured procedure with bariatric surgeons worldwide.
Gastric bypass
Gastric bypass offers a permanent solution to the diseases associated with obesity, particularly type 2 diabetes. It is suitable for patients who have a history of multiple unsuccessful attempts at losing weight with diet, those with excess weight that may jeopardise health, people with a BMI of 40 or higher, or people with a BMI of 35-40 with any obesity-associated co-morbidity.
Performed laparoscopically (keyhole surgery), the procedure shrinks the stomach to a small pouch and causes the food to bypass the upper portion of the small intestine. This has a dual effect: both the amount of food that can be ingested and the amount of nutrients that can be absorbed is reduced.
Most patients who undergo gastric bypass surgery successfully lose weight and maintain their excess weight loss in the long term. The role of a dietician is important in the postoperative period to ensure that patients adapt to the dietary changes required, however the rates of postoperative patient satisfaction are high in terms of the psychological and physical effects.
Non-surgical weight loss (gastric balloon)
An intragastric balloon is a soft, expandable balloon that is inserted endoscopically into the stomach. Once placed, the balloon is filled with liquid, generating a feeling of 'fullness' when smaller food portions are ingested. A gastric balloon may be in place for 6 or 12 months.
The gastric balloon is designed to work in conjunction with dietary and lifestyle changes. It is suitable for overweight people with a BMI over 25 who have failed to lose weight with diet or exercise, who have lost motivation or who do not want to undergo a surgical procedure.
International patients
Dr. HE Obesity Clinic welcomes patients from around the world and has dedicated patient coordination and consultation services in English, German, Bulgarian, French, Spanish, Armenian, Italian and Arabic.
Obesity articles
Dr Hasan Erdem has recently written the following blog posts.
For more information, call the clinic's 24/7 Obesity Help Desk on 90 543 346 10 37 or fill out the online form to get a free consultation.
Image
Languages spoken
English
Armenian
German
Turkish
Bulgarian
French
Spanish
Italian
Arabic
Opening hours
| | |
| --- | --- |
| Mon: | 08:00 – 19:00 |
| Tues: | 08:00 – 19:00 |
| Wed: | 08:00 – 19:00 |
| Thurs: | 08:00 – 19:00 |
| Fri: | 08:00 – 19:00 |
| Sat: | 08:00 – 19:00 |
Legal
| | |
| --- | --- |
| Liability insurance: | Yes |
| Limit of indemnity: | £0.00 |
Videos
| | |
| --- | --- |
| | Weight Loss Surgeries Q&A with Dr. HE |
| | Non-surgical weight loss method: Intragastric balloon |
| | Medical examination following gastric sleeve surgery |
| | Bariatric Kitchen - A Guidelines For Weight Loss Surgery Diet Plan | Dr. HE Obesity Clinic |