PROFILE
Located in Georgia's renowned summer resort town of Kobuleti on the shores of the Black Sea, Georgia Palace Hotel & SPA Kobuleti is a 5-star resort hotel offering all the facilities needed to enjoy a relaxing and rejuvenating wellness holiday, including modern SPA centre with hydro thermal pools, wellness centre, Kerala Ayurveda Centre and beauty salon.
Luxury, exclusiveness and rejuvenation
Georgia Palace Hotel & SPA is situated in the small resort town of Kobuleti on the Adjarian Black Sea coast. The area is characterised by a unique subtropical microclimate, ionised sea air and thermal bathing waters which have long been recognised to have beneficial effects on the cardiovascular, respiratory and nervous systems.
The country's first five-star resort, Georgia Palace Hotel & SPA combines luxury and exclusivity with a friendly, family spirit designed to make guests feel fully at home. Guests are accommodated in a range of comfortably-appointed rooms and the hotel's 4 bars and 2 restaurants offer culinary choices to suit every palate, from Georgian and European specialties to a variety of Asian dishes.
Pure SPA Marina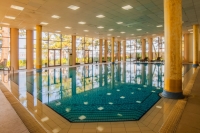 Available to all hotel guests, Pure SPA Marina is located next to the shores of the Black Sea. Featuring a range of sensory experiences to relax, cleanse and beautify, its hydro thermal spa and pools provide the ideal spot to unwind.
Kerala Ayurveda Centre
The Kerala Ayurveda Centre at Georgia Palace Hotel & SPA offers a range of 3, 7 and 14 day accommodation packages that include a consultation with an Ayurveda doctor, a personalised Ayurvedic diet and a program tailored to each individual's needs. Specific programs available include: psoriasis; weight loss; detoxification; rejuvenation; distress; pain relief; and stress management.
Wellness Centre
The Wellness Centre at Pure SPA Marina offers an extensive range of spa and wellness treatments for the face and body, with specialties such as hydrocolonic therapy and features such as a solarium, Jacuzzi and massages by the pool. Packages can be self-tailored, or guests can choose from a list of carefully designed options:
Beauty salon
The beauty salon at Georgia Palace Hotel & SPA is staffed by an in-house team of beauticians and hairdressers. From creating a fresh new look to bridal preparations to make a wedding dream come true, they are able to provide the perfect style for every occasion.
Sport and entertainment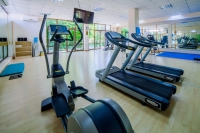 Set on a large site, with a beautiful gardens and a long Black Sea promenade, Georgia Palace Hotel & SPA offers a wealth of healthy activities and sports, including swimming, tennis, table tennis, basketball, mini-golf, cycling, fitness and pool volleyball.The hotel's friendly animation team provide a daily program of entertainment, organising activities such as sports tournaments, games, shows, karaoke, as well as dancing and cooking lessons.
Book a wellness and spa holiday in Georgia
To book a wellness and spa holiday at Georgia Palace Hotel & SPA, call 995 322 24 24 00, email [email protected] or fill in the online contact form.
Their friendly team are on hand to help you plan the ideal holiday to ensure you return feeling happier and healthier.
Image
Languages spoken
Legal
Videos
| | |
| --- | --- |
| | Georgia Palace Hotel & SPA Kobuleti |
| | Welcome to GPH |