PROFILE
Sanatoria Klimkovice has been providing superior adult and child rehabilitation services since 1994. They have a team of highly qualified doctors and physiotherapists to help rehabilitate individuals with motor and psychomotor disabilities. They specialise in the neuro rehabilitation of individuals with cerebral palsy, brain injuries and stroke.
Based in the Czech Republic, The Sanatoria Klimkovice neuro rehabilitation clinic offers a wide range of specialised programs for children and adults with cognitive and physical disabilities, with a specific focus on cerebral palsy, traumatic injury to the brain and stroke. The clinic utilises a wide range of highly effective neuro rehabilitation methods to help improve the quality of life for clients suffering from these conditions.
A highly specialist team
Sanatoria Klimkovice boasts a highly experienced team of specialists that support individuals throughout their neuro rehabilitation.
The expert team provides the highest level of care and will endeavour to make sure that every client achieves the maximum improvement possible for their condition.
Treatment Plan
The clinic offers a professional neuro rehabilitative care service where they provide a tailored rehabilitation treatment plan for each individual. Each rehabilitation programme will typically take three to four weeks depending on the individual's situation. All the therapies offered at the clinic are suitable for both adult and children.
Therapies offered at Sanatoria Klimkovice
Sanatoria Klimkovice offer a wide selection of therapies suitable for both adults and children that suffer from cerebral palsy, or have suffered from a stroke or a traumatic injury to the brain. Therapies include:
Constraint-Induced Movement Therapy
Specialised physiotherapy using therapeutic suit
Intensive therapy using URIAS inflatable air splints
Redcord suspension exercises
Synergetic reflexology therapy (SRT) in combination with stimulation of sensory functions in the Snoezelen
Speech therapy
Cognitive therapy
Oxygen therapy
Electrotherapy
Application of natural healing source - iodine-bromine water
Rehabilitation therapy after stroke
The Sanatoria Klimkovice clinic offers Constraint-Induced Movement Therapy for individuals that require rehabilitation after suffering a stroke. This therapy helps to restore limb movement and has seen to lead to a significant improvement of the motor skills in the affected limb. Klimkovice is the only facility in Central Europe that is certified to offer CI therapy. Find out more

Neuro rehabilitation for cerebral palsy
Klimkovice offer a multisensory approach for the treatment of cerebral motor skill disorders. They offer Synergetic reflexology therapy, in conjunction with stimulation of the sensory functions in the Snoezelen (a controlled multi sensory environment) to help increase mobility and prevent the consequences of the disorder.

Compliant with the Code of Practice for Medical Tourism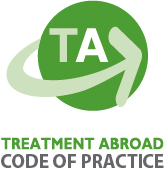 Sanatoria Klimkovice have demonstrated their compliance with the Treatment Abroad Code of Practice for Medical Tourism, following a review by external assessors.
Find out more about the code of practice
View details of Sanatoria Klimkovice's Code of Practice record