PROFILE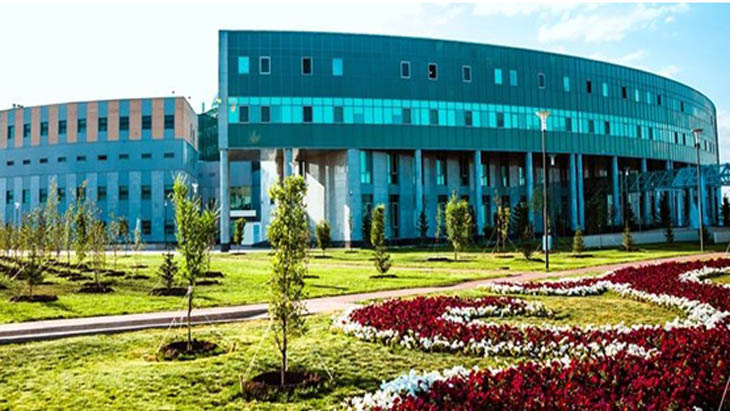 Medical Centre Hospital of the President's affairs Administration of the Republic of Kazakhstan offers first class care to governmental officials (for free) and paid private patients. It is a leading healthcare service provider in Central Asia. Being tertiary care facility, the hospital in Astana integrates all types of diagnostics, treatment and rehabilitation and offers patients a comfortable ambience.
The internationally accredited hospital offers a wide range of treatments and diagnostic services including: general surgery, cancer treatment, cardiac surgery, neurosurgery, internal diseases, dialysis, dental treatment, eye, ENT surgery, urology, gynaecology, nuclear medicine, radiology, endoscopy, laboratory and rehabilitation.
Why choose Medical Centre Hospital, Kazakhstan?
Established since 1997, Medical Centre Hospital of the President's affairs Administration of the Republic of Kazakhstan endeavours to deliver world class patient care, comparable to that of leading international hospitals. That is why they pair outstanding clinical expertise and caring staff with the latest technology and facilities, to deliver multidisciplinary healthcare that you can trust.
As a leading hospital in Central Asia, they:
treat 500,000 outpatients and 6,550 inpatients per year
safely perform over 4200 surgical operations per year
are internationally accredited by ISO and JCI
have furbished private patient rooms
feature cosmetologist services and sauna
provide personal interpreters
Medical services at Medical Centre Hospital in Kazakhstan
The hospital is equipped with the best personnel to offer a comprehensive range of medical services to protect your health and that of your loved ones. They are a multidisciplinary hospital, providing over 1,444 types of medical services, each delivered with the highest standards of care, including:
Cardiology/cardiac surgery
Ophthalmology
Orthopaedics
ENT (Ear, Nose and Throat) surgery
General surgery
Neurosurgery
Radiosurgery
Neurology
Gastroenterology
Dermatology
Nephrology
Gynaecology
Endocrinology
Dental treatment
Preventative healthcare programmes (check up)
Physiotherapy
View a list of prices and treatments
World class healthcare in Astana, Kazakhstan

Putting patient health at the heart of all that they do, the modern hospital offers personalised treatment solutions to offer you the best outcome in regards to your health. They apply the latest research methods and use cutting edge techniques and technologies help you achieve a greater quality of life.
They are one of the first hospitals in Kazakhstan to introduce a 'Hybrid operating theatre' allowing them to perform minimally invasive and endoscopic surgeries that greatly reduces recovery times and improves accuracy, so you can regain your health sooner.
Their expert consultants are all highly qualified and experienced in their respected fields and continue to refresh their skills by training in world renowned hospitals. Their patient focused care allows you to enjoy a comfortable and friendly stay.

Location
Located in the Kazakhstani capital city of Astana, Medical Centre Hospital of the President's affairs Administration of the Republic of Kazakhstan offers a warm welcome to international private patients.
Being based in such a great location, the private hospital has excellent transport links and is only a 15 minute car ride away from the main international airport. As part of their commitment to patient focused care, the hospital will provide interpreters for foreign patients, who will communicate with your physicians and also help organise any sightseeing and tours.
Opening hours
| | |
| --- | --- |
| Mon: | 08:00 – 19:00 |
| Tues: | 08:00 – 19:00 |
| Wed: | 08:00 – 19:00 |
| Thurs: | 08:00 – 19:00 |
| Fri: | 08:00 – 19:00 |
| Sat: | 08:00 – 13:00 |
Imaging and radiology
PET scan (Positron Emission Tomography)
CT scan
MRI scan
Legal
Videos
| | |
| --- | --- |
| | About the hospital |
Documents
| | |
| --- | --- |
| | Patient story [ PDF 203kb] |