PROFILE
GENESIS Hospital is a specialist obstetrics, gynaecology, cosmetic surgery and general surgery hospital for women. Based in picturesque Thessaloniki, Greece, the institute is the first mixed (obstetrics, gynaecology, cosmetic surgery and general surgery) specialist private women's hospital in the area. Boasting advanced care facilities, the hospital strives to provide the highest quality health services for women.
Utilising pioneering medical technology, the impressive facility is the model of comfort and care for their patients, incorporating modern treatments with a premium standard of hospitality.
Take a virtual tour of GENESIS Hosptial.
Treatments at GENESIS Hospital
GENESIS Hospital is continuously searching for innovative and effective ways to update its medical services. The hospital monitors pioneering medicinal developments with a vision to implement them in the separate departments, and provide top quality health support for women.
Plastic and aesthetic surgery at GENESIS Hospital
With successful cosmetic surgery becoming increasingly achievable, GENESIS offers premium and affordable cosmetic care. Unique in Greece, GENESIS has an independent Plastic Surgery Department with 5 operating rooms, 5 day-care beds and 4 patient rooms with two single beds. The hospital's renowned specialist plastic surgeons adopt advanced techniques and methods to create the most desirable and predictable outcome.
All plastic surgeon doctors and surgeons are members of the Association of Plastic Surgeons of Northern Greece. They offer unbiased advice and listen carefully to the needs of the patients, helping them make informed decisions that are appropriate for their needs.
The medical services on offer include:
Lifting Face and Neck
Blepharoplasty
Rhinoplasty
Otoplasty
Hair implantation
Lifting thread (happy lift)
Isolagen (aging process)
Augmentation mammoplasty
Shrinking Mammoplasty
Breast reconstruction after mastectomy
Gynecomastia correction
Liposuction
Abdominoplasty
Correction of scars
The Department of Aesthetic Plastic Surgery at GENESIS can be reached directly by calling 30 2310 984040.
General surgery at GENESIS Hospital
Boasting one of the best equipped and advanced general surgery departments in Thessaloniki, GENESIS offers first-rate treatments for a host of general conditions. Patients at GENESIS benefit from:
Six state-of-art operating rooms
Cutting-edge laparoscopy towers and aesthetic machines
Highly refined specialists that adhere to the strictest surgery protocols
A 24-hour support system
Innovative Intensive Care Unit equipped with 6 beds and staffed with intensive-care specialists
The large, luxury wards of GENESIS Hospital with the provision of constant care by the trained nursing personnel and the on-call doctors
The highly trained surgeons at GENESIS Hospital aim to perform advanced treatments that require as little time recovery as possible. The general surgeries that take place at GENESIS include:
Minimally invasive thyroidectomy
Minimally invasive parathyroidectomy
Breast surgery (mastectomy with simultaneous reconstruction, lymph node dissection, breast lumps, biopsies, etc), which is supported by an organized Breast Unit
Hernia repair surgery (inguinal hernia, abdominal hernia, umbilical hernia, etc)
Colon and rectal surgery (haemorrhoids, anal fissures, perianal fistulas, etc)
Laparoscopic cholecystectomy
Laparoscopic appendectomy
Exploratory laparotomies
Pilonidal cyst
Obstetrics & gynaecology at GENESIS Hospital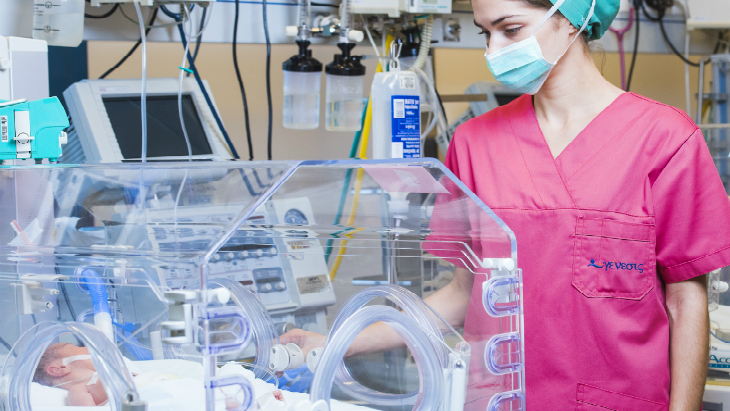 As the largest private maternity hospital in North Greece, GENESIS remains a leader in the field of obstetrics and gynaecology. The hospital has been constructed with baby and mother in mind, offering care and support for the birthing mother from conception through to the first hours/days of the new-born's life.
There is a number of departments to support maternity. These include:
• In Vitro Fertilization Unit (IVF)
• Prenatal Screening and Fetal Medicine Unit
• Neonatal Intensive Care Unit
Each mother gets their own private delivery room for the duration of her admission.
Acknowledging the stress of becoming a new mother, GENESIS provide consultations and workshops on child birth, nursing and infant care. Also, as firm supporters of breastfeeding, consultations are available through special seminars (pre/antenatal) on breastfeeding, neonatal care and nutritional issues during pregnancy.
Click to find out more about what to expect at GENENIS' Obstetrics Department.
Recognising endoscopic surgery as the future of gynaecology, GENESIS champions its endoscopic gynaecology services. It enables new prospects in the diagnosis and treatment of gynaecological conditions, allowing for shorter recovery time after treatment and shorter hospitalization.
Click to find out more about endoscopic surgery and gynaecology at GENESIS Hospital.
International patients at GENESIS Hospital
GENESIS Hospital attract patients from all around the globe. These patients receive a comprehensive range of additional services to make their patients feel stress-free, comfortable and secure.
The hospital has had experience in collaborating with a host of insurance companies from all over the world. They maintain that GENESIS is open for collaboration with all insurance companies in order for patients to cover costs that are associated with diagnostics, examinations, surgery and hospitalization.
Quality and international accreditations at GENESIS Hospital
GENESIS Hospital tries to maintain its leading position and to achieve "zero error" performance.
Knowing in advance that the quality of the provided services is judged by patients and other co-operating parties, GENESIS seeks to fully satisfy their needs and to exceed their expectations.
GENESIS Hospital has been certified according to Temos "Quality in International Patient Care". GENESIS Hospital has been a member of the Temos network of certified healthcare units in Greece since April 2016. This certification program strives to validate and enhance the hospital's medical and non-clinical services for international patients within the hospital and for the post-treatment and discharge procedures.
Diplomatic Council (DC) Preferred Partner Hospital. The quality seal of "Diplomatic Council (DC) – Preferred Partner Hospital" was awarded to GENESIS HOSPITAL in 2016, following the joining of the Temos International quality program. This is a worldwide superior DC quality certificate for medical facilities that offer treatment for international patients within the scope of medical tourism, tourism medicine, and medical services for business travelers and expatriates. Apart from the DC Quality Certificate, GENESIS HOSPITAL is also listed in the Diplomatic Council "DC – Preferred Partner Hospitals" Directory, and is officially recommended to all partner embassies and consulates by the Diplomatic Council worldwide.
GENESIS is certified as a whole in accordance with the International Quality Standard ISO 9001:2015 by the official certification body TUV AUSTRIA HELLAS. Scope: Provision of Primary and Secondary Health Care Services in the fields of Obstetrics, Gynecology, General Surgery, Plastic & Aesthetic Surgery.
GENESIS has been certified in accordance with the International Standard EN 15224:2012 from July 2017, which is designed specifically for the health care sector. The standard focuses on the health services delivery and risk management. These two important components indicate the degree of the quality of care provided to the patient. Advantages of this standard: improving patient safety, accessibility, effectiveness, efficiency of services, adequate and proper care of the patient, as well as improving safety culture and continuous improvement of service quality.
The clinical Biochemical laboratory has been accredited in accordance with the standard ISO 15189:2012 by ESYD. The official scope of the Accreditation's Certificate concerns to the determination of the values of: 1) the free beta-chorionic gonadotropin (f-b-hCG) and 2) pregnancy-associated plasma protein A (PAPP-A) in blood serum, which in combination with NT from the first trimester ultrasound contribute in the estimation of the risk for chromosomal abnormalities in the first trimester of pregnancy.
In March 2017, GENESIS Hospital was awarded certification regarding the collection of umbilical cord and placental blood transplants, in cooperation with the Haematology Department of PAPANIKOLAOU Hospital, Thessaloniki - Greece
Legal
Documents
| | |
| --- | --- |
| | GENESIS Hospital brochure [ PDF 1079kb] |