PROFILE
St Catherine Specialty Hospital in Zabok, Croatia is a European centre of excellence specialising in orthopaedic surgery and sports medicine, pain management, spine health, neurology, gastroenterology, physical medicine and rehabilitation. Working with a team of leading experts and equipped with the latest diagnostic and therapeutic technologies, the hospital is a proud member of the prestigious group 'The Leading Hospitals of the World' and is successfully involved in treating some of Croatia's best known athletes.
Comprising a state-of-the-art hospital in Zabok, a specialist polyclinic in Zagreb and a satellite orthopaedic clinic in Split, St Catherine Specialty Hospital offers the highest standards of healthcare from experts working at the cutting edge of their respective fields. All the physicians working at St Catherine Hospital are affiliated with Croatia's four medical schools and the hospital itself is a teaching hospital licensed to carry out bio-medical research.
St Catherine Hospital is recognised nationally and internationally for quality, receiving in recent years the QUDAL medal from the International Certification Association (ICERTIAS), 'The Best Hospital Award' and recognition as a 'Scientific Center of Excellence for Personalized Medicine in the Republic of Croatia'. The hospital is a member of the international ICERTIAS Customer's Friend programme and was named 'International specialist patient centre of the year' at the IMTJ Medical Travel Awards in 2017.
In the short time that it has been established, St Catherine Specialty Hospital has quickly built a reputation for excellence in the field of sports medicine and it is the official hospital of the Croatian Olympic Committee and of the Croatian Football Federation. The unique approach to treatment and rehabilitation it offers attracts elite professional sports men and women from across the world.
Centres of Excellence
Radiology and imaging
St Catherine Hospital is equipped with the most advanced diagnostic technology, including the MAGNETOM Avanto MRI scanner, high resolution ultrasound, color Doppler and digital Philips Veradius fluoroscopy (C-arm) with flat detector. A full range of MRI and ultrasonography procedures is available with optional sedation during MRI for children and adults.
Orthopaedic surgery and sports medicine
The orthopaedic surgeons at St Catherine Hospital enjoy national and international recognition for surgical excellence and innovation, collaborating with scientists worldwide to develop new solutions to improve healing, speed rehabilitation and improve treatment outcomes.Working with specialists in radiology, physical medicine and rehabilitation, among others, they provide individualised care in all areas of orthopaedics, including:
Joint replacement
Fracture care and trauma
Hand surgery
Arthroscopy
ACL injury
Shoulder surgery
Foot and ankle injuries
Paediatric orthopaedic conditions
Sports injuries
Meniscus transplants
Regenerative orthopaedics and tissue engineering
Spine health
St Catherine Hospital offers expert diagnosis and treatment of painful spinal conditions such as degenerative diseases of the disc and facet joints, sacroiliac joint problems, spinal stenosis, spinal instability and spinal deformities. Designed to improve quality of life, the one-stop service offers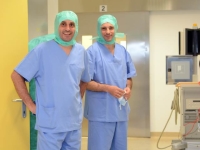 the most up-to-date interventions available, including:
Minimally invasive vertebral intervention (MEVI)
Laser Disc Decompression
Endoscopic operations of the spine
Microdiscectomy
Kyphoplasty
Spinal surgery
Neurology
Advances in the treatment of neurological disorders have made early diagnosis of such problems even more important. Fully equipped with the latest technology, St Catherine Hospital provides a comprehensive range of functional diagnostics, both for the peripheral and central nervous systems, including the brain, spinal cord, peripheral nerves and muscles. Conditions investigated at their out-patient clinic include sciatica, whiplash injuries, carpal tunnel syndrome, tremor, Lyme's disease, neuromuscular diseases, epilepsy, demyelinating diseases, Parkinson's and dementia.
Gastroenterology
St Catherine Hospital provides rapid access to affordable specialist diagnosis and treatment of gastrointestinal conditions:
Colonoscopy and gastroscopy
Abdominal ultrasound
Abdominal color Doppler
Color Doppler of the blood vessels of the abdomen
Contrasting liver ultrasound
Transient liver
Physical medicine and rehabilitation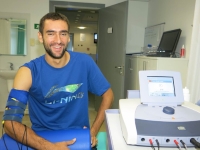 The department of physical therapy at St Catherine Specialty Hospital works as part of a multidisciplinary team to provide a range of rehabilitation programmes such as pre- and post-operative rehabilitation, sports rehabilitation and post-traumatic rehabilitation, as well as specialised programmes for prevention, degenerative conditions and 'IT-syndrome'.
Each rehabilitation programme is adapted to the needs of the individual and is designed to return the patient to their sport or everyday activities in the shortest time possible. Methods and techniques available include medical gymnastics, manual joint manipulations, electrotherapy, therapeutic ultrasound, shock wave therapy, laser therapy, cryotherapy, functional electrostimulation, biofeedback training and Kinesio Taping.
Anaesthesiology
St Catherine Hospital works with a team of highly experienced adult and paediatric anaesthetists to provide a comfortable and safe service for patients undergoing general and local anaesthesia. The hospital recognises that many patients have concerns about receiving someone else's blood in the eventuality of a blood transfusion being necessary, and offers the possibility of autologous perioperative and postoperative transfusions.
Getting treatment
St Catherine Speciality Hospital welcomes international patients at its three facilities in Croatia: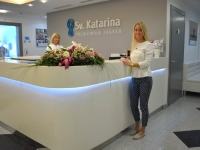 St Catherine Specialty Hospital Zabok
Bracak 8, 49210 Zabok
Croatia
Tel:385 49 296 600
Fax: 385 49 296 694
St Catherine Specialty Hospital Zagreb
Trpinjska 9, 10000 Zagreb
Croatia
Tel:385 1 2867 400
Fax: 385 1 2867 499
Ambulanta Split
Kranjceviceva 45, 21000 Split
Croatia
Tel:385 21 280 399
Legal
Videos
| | |
| --- | --- |
| | St Catherine Specialty Hospital video |
Documents
| | |
| --- | --- |
| | About St Catherine Specialty Hospital [ PDF 389kb] |
| | Center for Spine Health [ PDF 334kb] |
| | Center for Physical Medicine and Rehabilitation [ PDF 307kb] |
| | LIPOGEMS - Mesenchymal stem cell therapy [ PDF 2266kb] |
| | Centre for Neurology [ PDF 1776kb] |
| | Center for Orthopaedic Surgery and Sports Medicine [ PDF 325kb] |
| | Center for Radiology and Imaging [ PDF 296kb] |
| | European Centre of Excellence for Orthopaedics, Neurosurgery and Sports Medicine [ PDF 721kb] |
| | Health tourism at St Catherine Specialty Hospital [ PDF 5747kb] |
| | Adipose-derived stem cell therapy [ PDF 506kb] |