PROFILE
Dr François Lintz is one of the leading foot and ankle specialists based at the Foot and Ankle Surgery Center (UCP) in greater Toulouse in Southern France. Offering treatment for the full range of foot and ankle problems, he has a special interest in disorders of the forefoot, such as bunions (hallux valgus) or toe deformities and in keyhole repair for ligament disorders of the ankle or ankle instability following ankle sprains. His practice also includes keyhole surgical treatments for osteoarthritis.
Book a video consultation with Dr François Lintz
Foot and ankle hyperspecialist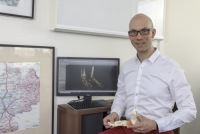 Dr Lintz graduated with honors from the University Paris V Medecine and undertook his specialist training in foot and ankle surgery at the Medical Universities of Nantes. During this time, he also completed his fellowship in Foot and Ankle Surgery in Bristol, UK and was appointed to the French and European Board of Orthopedic Surgery after successful passing the board examination in 2010.
Dr Lintz was appointed as Consultant Orthopaedic Surgeon, Foot and Ankle Specialist at the Centre de Chirurgie de la Cheville et du Pied at the Clinique de l'Union in Toulouse in 2012.
He speaks fluent English and French and some Spanish and German.
Clinique de l'Union is a Ramsay Healthcare Group private hospital. Ramsay Healthcare is a worldwide group comprising hundreds of facilities on multiple continents. Clinique de l'Union was historically the first large private orthopedic hospital in Occitania, in beautiful southern France. Situated a 1.5 hour drive from the Mediterranean sea, 2.5 hours from Spain and its Costa Brava, it is also only an hour away from the Pyrenees mountain chain. Clinique de l'Union itself is only 20 minutes away from Toulouse-Blagnac international airport, home to the Airbus group, a regional pride and massive provider of jobs in this economically flourishing city.
Professional memberships
American Orthopaedic Foot & Ankle Society (International Member)
European Foot & Ankle Society (Fellowship and Media committee)
International WBCT Society (Vice-President)
French Foot and Ankle Society (Chair, scientific committee)
European Board of Orthopaedic Surgery (Fellow)
French Board of Orthopedic Surgeons (Fellow)
Research
Dr Lintz is actively involved in clinical research and advises the biotech industry on implant design. A regular contributor to the scientific literature, he has published over 50 international articles and papers and contributed to book chapters especially regarding bunion surgery and 3D bony architecture of the Foot and Ankle .
Private practice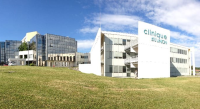 Dr Lintz has a busy private practice, carrying out over 600 surgical procedures each year. He is the inventor of the TALAS® software for measuring hindfoot alignment in three dimensions and is actively involved in Curvebeam, the successful US, Philadelphia-based startup which revolutionized foot and ankle imaging using Cone Beam, weight bearing computed tomography.
See how Curvebeam was recently used to monitor US President Joe Biden's broken foot here.
Dr Lintz's clinic is based at Clinique De l'Union, a fully-equipped modern hospital complex certified by Haute Authorité de la Santé (HAS) and ISQUA and ranked A for infection prevention and control by the French Health Ministry. The hospital is easily accessible by air, rail and car.
Bunion surgery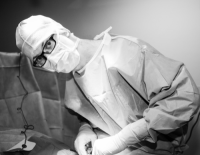 A bunion is a common deformity of the joint at the bottom of the big toe which causes a bony lump to form on the side of the foot. The lump can be painful, particularly when walking or wearing shoes. Non-surgical remedies such as insoles, toe spacers and toe supports can help, but in cases where the bunion has become very painful and is impacting on everyday life, surgery is the only treatment.
The surgeons at UCP provide a range of modern procedures to correct bunions. Treatment is always tailored to the individual and the surgery is generally carried out as a day-case operation under regional or local anaesthetic, with immediate weight bearing in dedicated shoeware. Sometimes, depending on the patient's level of comfort with being awake during the procedure, sedation maybe added by the anaesthetic team.
Treatments offered
Committed to helping patients to walk or run again without pain, Dr Lintz provides minimally-invasive surgical treatment for bunions. Osteoarthritis, ankle instability and trauma, claw toe, Morton's neuroma and more are also treated at UCP.
With 28 bones, 34 joints, the Foot and Ankle complex is the site of numerous sports injuries, degenerative disease and deformity. In this respect, a complete evaluation of your condition by the doctor is necessary to identify the condition and its potential solution.
Languages spoken
Legal
| | |
| --- | --- |
| Liability insurance: | Yes |
| Limit of indemnity: | £0.00 |
Videos
| | |
| --- | --- |
| | CurveBeam's Automatic IMA Angle Measurement Tool |
| | WBCT International Study Group Meeting - AOFAS 2018 |
| | The Breathing Navicular |
| | CurveBeam Talas demo |
| | Ankle instability captured on CurveBeam |
| | Safety and efficiency of a 2-portal lateral approach to arthroscopic subtalar arthrodesis |