PROFILE
ADONIS Medical Group of Companies is comprised of 7 medical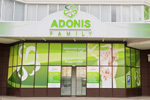 centers that have been treating patients in Kyiv, Ukraine for over 20 years. ADONIS FAMILY is an IVF clinic in Ukraine, and ADONIS BEAUTY is a cosmetic surgery clinic and both belong to the ADONIS Medical Group. Both ADONIS clinic boast state-of-the-art facilities, experienced staff and superb results. An International Department provides you with a personal coordinator who will make sure that every phase of your treatment runs smoothly.
At ADONIS, they understand how important it is for their patients is to begin their journey as fast as possible.
They are now offering a SPECIAL SPRING OFFER for IVF Egg Donation (6 vitrificated oocytes). At the moment, the program costs 2900 euros.
The price includes:
preparation of the endometrium (without the cost of medicines)
thawing of oocytes
preparation of sperm
ICSI for 6 oocytes
cultivation of embryos
embryo transfer
embryological supply associated with these stages
Please note that the medicines, hCG and ultrasound that confirm the pregnancy are not included into the cost of the program.
*the Special Offer is limited, so, they kindly ask you to contact them as soon as possible to reserve the program on the terms of the promotion
ADONIS FAMILY IVF Clinic
The assisted reproductive center with a focus on surrogate motherhood is committed to offering you high-quality treatment with low-cost prices. The fertility clinic is also equipped with the latest technology.
Treatments offered at ADONIS FAMILY
ADONIS FAMILY offers the full range of reproductive treatments, including diagnostics and treatment of gynaecological problems, such as:
If you would like to undergo surrogacy, you also have the option of surrogacy with egg donation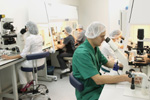 and surrogacy with sperm donation. These programs will include (where necessary and not limited to):
Selection and examination of surrogate mother
*Selection of egg and sperm donors (if necessary)
Translation and legalization of Patient's documents
Development and notarization of individual draft of surrogacy contract
Patient coordination service
Cryopreservation and storage of sperm and embryos
IVF program with the cost of medicines
Pregnancy monitoring program
Childbirth at the ADONIS Maternity Hospital
ADONIS BEAUTY Cosmetic Clinic
ADONIS BEAUTY aims to deliver the best patient care by offering sophisticated treatments in plastic surgery, aesthetic gynaecology and cosmetology. The cosmetic surgery clinic pride itself on their highly qualified and experienced medical team, boasting it as one of their key assets. Their doctors regularly attend world conferences and are members of leading medical associations, ensuring they remain up-to-date with the latest treatments in their field.
Treatments offered at ADONIS BEAUTY
Cosmetology
Face cosmetology
Body cosmetology
Beauty injections
Laser cosmetology
Plastic surgery
Face
Breast
Body
Reconstructive surgery
Aesthetic gynecology
Intimate plastic surgery
Laser intimate plastics
Intimate filling
PRP therapy of the intimate zone
International Department
ADONIS boasts a team of English-speaking staff solely dedicated to making sure your treatment process is stress-free.
The clinic will assign you a personal coordinator who will ensure your individual treatment plan is fully explained to you. They will answer any questions you may have and cater to your needs throughout your treatment.
The International Department will also ensure that all the correct documentation is filled out, helping you to obtain a birth certificate and prepare documents for your embassy after your fertility treatment.
Legal
| | |
| --- | --- |
| Liability insurance: | Yes |
| Limit of indemnity: | £0.00 |