PROFILE
Based in the beautiful port city of Alicante on Spain's Costa Blanca, IVF Spain is a modern, ISO-accredited fertility clinic, founded in 2009 by Dr Jon Aizpurua, an internationally recognised and respected expert in the field of assisted reproduction. The international clinic offers a comprehensive range of infertility treatments including IVF, IUI, the ROPA method for lesbian couples, social freezing and anonymous egg donation. Combining state-of-the-art technology, innovation and research with a caring, patient-centred approach, the clinic is able to provide specialist treatment for the most complex cases and its position at the forefront of the field of assisted reproduction is reflected in a pregnancy rate well above the Spanish average.
Expert fertility treatment
IVF Spain's medical team is led by Dr Natalia Szlarb. Supported by the most advanced technology, including three IVF laboratories, this highly qualified group of professionals works at the cutting edge of infertility innovation and technology to ensure that patients receive the best possible treatment to maximise their chances of conceiving a healthy child. In particular, the team's commitment and expertise allows them to specialise and achieve positive outcomes in more complex cases such as:
Patients with implantation failure
Immunology and genetic problems
Repeated miscarriages including in anonymous egg donation
IVF Spain offers personalised treatment plans individually adapted to the patient's needs. There is also a free online prediagnosis service available on their website to take the first step.
Patient-centred care
Two things are necessary to achieve the highest pregnancy rates, i.e. high standards of medical and embryological quality, and high levels of personal, patient-centred care.
Recognising that a person's fertility journey can be challenging and sometimes distressing, IVF Spain is committed to providing personalised treatment in the patient's preferred language, positively promoting empathy and respect and reducing stress by providing a consistent, high level of care treatment and support. Staff are trained not only in the latest medical, embryological and technological techniques, but also in counselling, coaching and therapeutic communication.
Equipped with the latest equipment and committed to providing medical protocols based on applied evidential medicine, IVF Spain has ISO 9001:2008 certification, UNE 179007 regulation and has been certified by TÜV, one of the most stringent and comprehensive independent ratings in the world.
Certified success rates
IVF Spain has one of the highest success rates in Europe and records pregnancy rates well above the Spanish average (54-80% depending on the type of treatment and in comparison to data published by the Spanish Fertility Association). The clinic has a pregnancy rate of 85% per cycle by means of egg donation, 70.4% for preimplantation genetic screening (PGS) and 49.7% for frozen embryo transfer (FET) from egg donation.
Treatments available at IVF Spain
Fertility treatment in Spain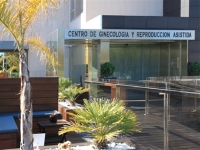 IVF Spain ensure that all patients are comfortable and fully supported throughout their treatment journey. Each patient is assigned a personal assistant who speaks their native language and whose job it is to accompany the patient throughout the whole process and take care of arrangements such as hotel bookings and airport transfers.
The clinic has special agreements with nearby hotels and apartments, as well as a number of its own apartments which are located near the clinic and golf course, with access to a swimming pool and sports facilities.
Lesbian couples: ROPA method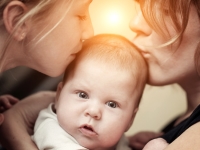 Also known as 'Shared Motherhood' or Partner Assisted Reproduction, the ROPA method allows same-sex female couples the chance to both be actively involved in the process of having a baby: one partner undergoes ovarian stimulation and provides the eggs, whilst the other carries and gives birth to the child.
Spain's progressive laws on assisted reproduction allow anonymous sperm and egg donation facilitating the ROPA method. Furthermore, Spanish law dictates that children born as a result of sperm or egg donation should not be able to obtain information regarding the donor, and conversely, that the donor should not be able to obtain information about the child.
Egg donation treatment
Egg donation is both legal and anonymous in Spain. It provides a good solution for women who cannot conceive themselves for reasons such as age, early menopause, genetic disease, ovarian failure or cancer treatment.
Under Spanish law, both the donor and the recipient are required to share as many phenotypic similarities as possible. IVF Spain's bank of 500 donors from across Europe, Asia and the Middle East means that they are able to offer egg donation treatment to meet the different features of patients worldwide.
Legal
| | |
| --- | --- |
| Liability insurance: | Yes |
| Limit of indemnity: | £0.00 |
Videos
| | |
| --- | --- |
| | IVF Spain - Your dream is a heartbeat away |
Documents
| | |
| --- | --- |
| | IVF Basic [ PDF 168kb] |
| | Egg Donation Basic [ PDF 177kb] |