PROFILE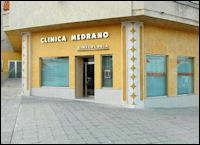 Clinica Medrano's location in the beautiful city of Algeciras on Spain's Mediterranean coast offers infertility treatment in Spain with a personalised and friendly touch at a great location. This Spanish infertility clinic provides a range of infertility treatments and assisted reproduction techniques, including IVF and ICSI. Clinica Medrano allows patients access to facilities such as preimplantation genetic diagnosis, egg donation and an embryo bank.
Since its founding in 2006, the staff at Clinica Medrano have upheld their standards for service and excellence in providing out patients with integrated care, from basic and specialised gynaecological services to the latest advances in infertility treatment options.
The achievements of the centre, published in the main Scientific Fertility Societies, guarantee the Unit's efforts in giving the best assistance to those couples who face these types of problems.
The team at Clinica Medrano is made up of highly-qualified specialized professionals. Their many years of experience along with out specially-designed facilities explain why our clinic is regarded as a model centre in the field of Infertility Treatment.
Clinica Medrano's location in the beautiful city of Algeciras on Spain's Mediterranean cost can be reached easily from Gibraltar and Malaga airports and by boat from the city of Tangier. The proximity of the clinic to the beautiful resorts of Sotogrande, Tarifa and Estepona allow patients to enjoy golf, shopping and of course sun and sea during their stay.
Many of the staff at the clinic have had experience dealing with international patients and are fluent in English, Spanish and several other languages. The medical team is made up of highly qualified, specialised professionals. Their many years of experience along with the specially designed facilities explain why their clinic is regarded as a model centre in the field of infertility treatment.
Infertility treatments in Spain available at Clinica Medrano
Infertility study
An infertility study is begun when a couple has been unsuccessful for one year in trying to conceive a child. It involves checking:
That both maturation of the egg and ovulation are proceeding normally
That the uterus and Fallopian Tubes show a normal, healthy anatomy
That a sufficient number of motile sperm cells exists
Artificial insemination
Artificial insemination is a very straightforward treatment that consists of first selecting a sample of sperm in the laboratory through a process called sperm capacitation. The sperm suspension is then introduced into the uterine cavity. Insemination can be performed using either semen from the male partner (IAC) or from intervention of a donor (IAD), in which case an authorised sperm bank is used.
In Vitro Fertilisation (IVF)

IVF begins with a cycle of ovulatory stimulation with the goal of making several eggs (ova) mature, which are then recovered and cultured with a determined quantity of sperm cells that have been previously selected through the process of sperm capacitation. Once the highest-quality embryos are selected, they are transferred to the uterus two or three days after follicular puncture (egg retrieval).
Sperm microinjection (ICSI)
The sperm microinjection (ICSI) technique consists of the introduction of a sperm cell into the interior part of an egg. It can even be carried out with sperm samples of very low quality, as only one sperm cell per retrieved egg is required. It is also a possibility for azoospermic patients who have had a testicular biopsy. Just as in IVF, egg retrieval (follicular puncture) is facilitated by ultrasound, following ovarian stimulation. The eggs that are fertilised will then be cultured in the laboratory until they are transferred to the uterus, just as in IVF.
Other infertility treatments in Spain offered by Clinica Medrano
Preimplantation Genetic Diagnosis (PGD): This technique is called for when there is a need to avoid the birth of babies with genetic or chromosomal abnormalities. It consists of performing a biopsy of each embryo obtained following a process of IVF-ICSI in order to extract a cell and submit it to an exhaustive genetic analysis so that healthy embryos can be differentiated from those carrying some kind of pathology.
Embyro bank: Clinica Medrano has an authorised embryo bank, originating from couples who have undergone cycles of IVF-ICSI. Viable embryos that have not been transferred to the woman are cryoconserved, as long as there is patient consent, for whatever use that is established by law. Therefore, possible uses for these embryos may include their use by the same woman or partner in later cycles, donation to other couples for reproductive purposes, or donation to research.
Egg donation: There are many couples who, for different reasons, must resort to using eggs from donors in order to solve their infertility problems. Thanks to the enormous generosity of many people, these couples can enjoy parenthood. The fact that donors are young women allows for excellent rates of gestation to be obtained.

Obstetrics and gynaecology facilities at Clinica Medrano
Gynaecology
Contraception
Early detection of genital cancer
Ultrasound
Colposcopy
Smear test
Menopause
Obstetrics
Pregnancy monitoring
3D and 4D ultrasound
Amniocentesis
Fetal monitoring
Chorionic villus biopsy
High resolution fetal echo anatomy
Going to Spain for infertility treatment
If you live outside of Spain and have the intention of visiting Clinica Medrano, you can contact their Department of International Attention where they will be pleased to provide you with information and assistance with services and accommodations in order to make your stay in their city easier and more pleasurable.
The Spanish legislation currently in effect allows the carrying out of infertility treatment procedures that cannot be performed in many other countries.
The most important of these include:
Egg donation
Preimplantation genetic diagnosis
Semen donation
Embryo freezing
Languages spoken
Legal
| | |
| --- | --- |
| Liability insurance: | Yes |
| Limit of indemnity: | £0.00 |