PROFILE
Located in Puchong in Selangor, Malaysia, TMC Fertility is an international award-winning fertility centre offering an extensive range of treatment options for male and female patients, including affordable fixed price packages. With a skilled team of specialists, advanced medical and technological facilities and world-class IVF labs, the clinic achieves pregnancy rates comparable to leading fertility centres worldwide.
High quality fertility care
Established in 1994, TMC Fertility (TMCF) is a well-recognised innovation driver with a network of 6 fertility centres countrywide, 11 resident fertility specialists, 16 highly qualified scientists and a team of experienced nurses and support staff.
The TMCF IVF laboratory is one of the largest in South-East Asia and was among the first in Malaysia to be certified by the Reproductive Technology Accreditation Committee (RTAC), the leading body for reproductive medicine in Australia and New Zealand.The clinic also boasts the latest technological advances, including Next Generation Sequencing (NGS) pre-implantation genetic screening and time-lapse imaging.
TMC Fertility is committed to the highest quality patient care and its success is based on strict quality controls and exemplary treatment standards. Patient wellbeing is of paramount importance and the clinic provides a range of support services including counselling and support groups, dietary counselling, dental wellness and acupuncture.
Success rates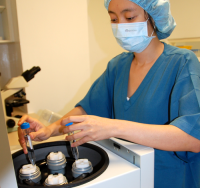 TMC Fertility has been successfully helping couples to conceive for over 25 years and is the Malaysia Book of Records Holder for the Highest Number of IVF Babies Produced by a Single IVF Practice: an impressive 5388 IVF babies in 2018.
Success rates at TMCF are close to 66% and are documented and published in international medical journals. Success at the clinic is based on clinical pregnancies, as recommended by the Human Fertilization and Embryology Authority, UK.
Treatments
Natural cycle monitoring
Ovulation induction
Fertility pills and timed intercourse
Intra-uterine insemination (IUI)
In-vitro fertilisation (IVF)
In-vitro maturation (IVM)
Minimal stimulation IVF (Mini IVF)
Gamete intra-fallopian transfer (GIFT)
Intracytoplasmic sperm injection (ICSI)
Assisted hatching
Blastocyst culture and transfer
Frozen embryo transfer
Pre-implantation Genetic Testing
Time-lapse imaging
Laparoscopic surgery
Surgical sperm retrieval (MESA, PESA or TESE)
Fertility support and counselling
General obstetrics and gynaecology
Egg freezing and banking
Sperm freezing and banking
Embryo freezing and banking
Fertility treatment with cancer
Dietary counselling
International patients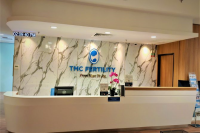 TMC Fertility welcomes overseas patients, providing help with all the arrangements needed for a stress-free trip to Malaysia for fertility treatment including airport transfers, clinic transfers, accommodation, interpreting/translation if required and scheduling of appointments.
Recognising that every couple has unique needs, the clinic offers personalised treatment and travel plans ranging from staying in Malaysia for the whole process through to a shorter stay involving the patient's own obstetrician and gynaecologist at home.
Regarded as one of Malaysia's leading fertility centres, TMCF is a registered medical facility with the Malaysian Health Tourism Council under the auspices of the Malaysian Ministry of Health.
Image
Languages spoken
Opening hours
| | |
| --- | --- |
| Mon: | 09:00 – 18:00 |
| Fri: | 09:00 – 18:00 |
| Sat: | 09:00 – 15:00 |
Legal
| | |
| --- | --- |
| Liability insurance: | Yes |
| Limit of indemnity: | £0.00 |