PROFILE
Alpha IVF in Kota Damansara, Malaysia is a pioneering advanced fertility centre equipped with the very latest assisted reproduction technologies and staffed by a leading team of fertility specialists. Offering premium one-to-one care, the clinic boasts success rates comparable with the top IVF centres worldwide.
World-class fertility care
With purpose-built, state-of-the-art facilities, Alpha IVF provides arguably the most wide-ranging fertility services available in Asia and Australasia, including IVF, PGD and PGS genetic testing, egg and embryo freezing, Microsort® sperm sorting and Time Lapse Embryo Monitoring System.
As the name 'Alpha' suggests, the clinic has long been at the forefront of advances in assisted reproduction technology (ART), with its team responsible for numerous fertility achievements in the region and worldwide, including a string of World 1sts in the field.
At Alpha IVF, the patient also comes 1st, with treatment individually tailored to every couple.
Expert team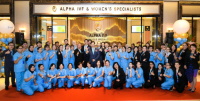 Alpha IVF was established by Dato' Dr Colin Lee FRCOG (United Kingdom), MBBS (Australia), MMed (Singapore) in 2011. He leads an expert team comprising fertility specialists, embryologists, scientists, geneticists, nurses, counsellors and a psychologist. All the work at Alpha IVF is overseen by the eminent and pioneering members of the group's scientific board.
Outstanding success rates
Alpha IVF is proud to have consistently achieved pregnancy success rates comparable to other leading IVF centres worldwide. The clinic's use of revolutionary technologies such as Cryotec® freezing technology, fresh blastocyst transfer and pre-implantation genetic screening has played an important role in the published IVF success rates. Alpha IVF's egg donation program is also among the best in Malaysia with all recipients of all ages having almost an equal chance of success.
State-of-the-art facilities
Alpha IVF's medical facilities meet international standards that are maintained with strict quality control and compliance. The clinic's highly specialised ART laboratories are among the best in South-East Asia:
Embryology laboratory
Andrology laboratory
Next Generation Sequencing (NGS) laboratory
Comparative Genomic Hybridization (CGH) laboratory
Polymerase Chain Reaction (PCR) laboratory
Fluorescent In-Situ Hybridisation (FISH) laboratory
Electrophoresis laboratory
Advanced fertility technologies
Alpha IVF is equipped with the latest technologies and techniques to maximise the chances of conception:
PIEZO-ICSI
CRYOTEC® Cryopreservation Technique
Ion Torrent Next Generation Sequencing (NGS) for PGT
ICSI chamber
IVF chamber
Blastocyst Transfer Program
EMBRYOSCOPE Embryo Culture and Monitoring System
Time Lapse Embryo Monitoring System
Artificial Intelligence-Enhanced Embryo Selection
Laser Assisted Hatching
One Incubator, One Patient
Treatments available at Alpha IVF
| | |
| --- | --- |
| Assisted Reproduction | Implantation optimisation |
| | ERA – Endometrial Receptivity Analysis |
| Intra-uterine insemination (IUI) | EMMA – Endometrial Microbiome Metagenomic Analysis |
| In-vitro fertilisation (IVF) | ALICE – Analysis of Infectious Chronic Endometriosis |
| Intra-cytoplasmic sperm injection (ICSI) | |
| | |
| | |
| Gamete Intrafallopian Transfer | |
| Saviour Sibling Program (SSP) | |
| | |
| Pre-implantation Genetic Testing (PGT) | Others |
| PGT-A (PGT for Aneuploidies) | |
| PGT-M (PGT for Mongenic diseases) | Embryo freezing and Cryo-Storage® |
| PGT-SR (PGT for Chromosomal Structural Rearrangement) | MicroSort® X&Y Sperm Sorting |
| PGT-HLA TYPING – PGT for Human Leukocyte Antigen | |
| | |
| | |
| | Ova-PRP – Ovarian Rejuvenation |
| | Artificial Intelligence-Enhanced Embryo Selection |
| | |
International patients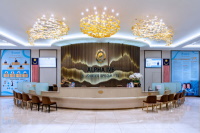 Conveniently located 30 minutes' drive from Kuala Lumpur city centre, Alpha IVF is easily accessible to international patients. The one-stop clinic is strategically situated in the vibrant area of Kota Damansara, surrounded by a wide variety of accommodation options, some as near as two minutes' walk from the clinic. Special corporate rates are available at partnered hotels.
The team at Alpha IVF is committed to making each couple's fertility journey as straightforward and stress-free as possible. Multiple languages such as English, Chinese Mandarin, Bahasa Indonesia and Tamil are spoken at the clinic and Alpha's Concierge Service is on hand to take care of travel and hotel arrangements, as well as sightseeing trips.
Every couple visiting Alpha IVF is treated individually with a tailor-made programme that caters to their specific needs. On average, treatment can be completed within 2-3 weeks with around 2-3 visits to the clinic.
Image
Languages spoken
English
Chinese
Indonesian
Opening hours
| | |
| --- | --- |
| Mon: | 08:00 – 20:00 |
| Tues: | 08:00 – 20:00 |
| Wed: | 08:00 – 20:00 |
| Thurs: | 08:00 – 20:00 |
| Fri: | 08:00 – 18:00 |
| Sat: | 08:00 – 15:00 |
Legal
| | |
| --- | --- |
| Liability insurance: | Yes |
| Limit of indemnity: | £174493.00 |