PROFILE
Clinic EGV is a leading reproductive health and infertility clinic in Riga, Latvia. The Clinic is staffed by experienced physicians, all of whom are members of international reproductive health professional associations, and has ISO 9001 quality certification.
Committed to finding solutions for even the most complex cases, Clinic EGV offers the most up-to-date fertility treatments and techniques available. The Clinic established Latvia's first sperm bank and runs its own egg donor programme. A full range of fertility diagnostic investigations is also available, as well as psychological support services and the services of a foreign patient co-ordinator.
Prices at Clinic EGV are low compared to Western European countries and its success rates in certain age groups reach 73%. The Clinic is used by the Latvian government to provide state-funded fertility treatment for Latvian citizens.
Services for women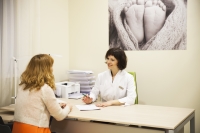 Clinic EGV offers a comprehensive range of services designed to ensure the reproductive health of women and to provide choices for those who are faced with a diagnosis of infertility.Fertility diagnostics are supported by the latest ultrasound technology and the clinic performs minimally invasive gynaecological and urological surgeries.
Should assisted reproduction be indicated, Clinic EGV is equipped to offer the most up-to-date procedures and techniques including IVF, ICSI, blastocyst cultivation, assisted hatching, embryo and egg vitrification, and IUI. Other services available include Preimplantation Genetic Screening (PGS) to test for overall chromosomal normalcy in embryos, Preimplantation Genetic Diagnosis (PGD) to test for specific genetic conditions such as cystic fibrosis, and the ERA test, a revolutionary new method that assesses endometrial receptivity increasing the chance of a successful embryo transfer.

Clinic EGV's egg donor programme also offers women who cannot have a baby using their own eggs for reasons such as illness, premature menopause or having a serious hereditary condition, the opportunity to become pregnant using donor eggs.
Center of Andrology
Clinic EGV is home to Latvia's first centre dedicated to men's health. Staffed by experienced experts, the Center of Andrology provides investigations and treatments for a range of issues affecting men, including fertility problems, erectile dysfunction, sexually transmitted diseases and conditions of the prostate, testicles, penis and urinary tract.
Treatments available at the Center of Andrology include minimally invasive urological surgeries, vasectomy reversal and the surgical treatment of male infertility (TESE, PESA, micro TESE and MESA). EGV is the only infertility clinic in Latvia to offer micro TESE using the latest generation microscope. With up to 28x magnification, this microscope is up to twice as effective at obtaining spermatozoids from the testicular tubules and is associated with a reduced risk of complications arising from trauma to the tissues.
Treatments available at Clinic EGV
Infertility diagnostics and treatment
Donor sperm
Egg donor program
Medical fertilisation procedures
- IUI
- IVF
- ICSI
- Blastocyst cultivation
- Assisted hatching
- Embryo/Egg vitrification
- The ERA test
Male fertility diagnostics
Surgical sperm retrieval
Sperm bank
Female fertility diagnostics
Women's reproductive health
Gynaecological examination and consultation
Men's reproductive health
Urological consultation and examination
Dopplerography examination
Ultrasound of male genitals (including prostate, testicles and penis) and urinary tract
TESA – testicular biopsy
Micro TESE
Other services
Preimplantation Genetic Screening (PGS)
Preimplantation Genetic Diagnosis (PGD)
Pregnancy care
Infertility treatment in Latvia
Clinic EGV welcomes overseas patients seeking high quality, affordable infertility treatment in Latvia.
To find out more about how they can help, complete the online question form or contact their friendly foreign patient coordinator Inguna Veide on 37120031320, email: [email protected].
Opening hours
| | |
| --- | --- |
| Mon: | 09:00 – 19:00 |
| Tues: | 09:00 – 19:00 |
| Wed: | 09:00 – 19:00 |
| Thurs: | 09:00 – 19:00 |
| Fri: | 09:00 – 19:00 |
Legal
Videos
| | |
| --- | --- |
| | Clinic EGV - Excellence in fertility treatment |
| | Clinic EGV - Micro-TESE infertility treatment for men |
Documents
| | |
| --- | --- |
| | Clinic EGV - Brochure [ PDF 1057kb] |
| | Clinic EGV - Price list [ PDF 230kb] |