PROFILE
Dr Turowski Hair Restoration Clinic in Katowice, Poland offers the latest techniques in FUE hair transplantation, including the revolutionary Artas® robotic hair transplant, from a pioneering expert in the field and his experienced team.
A leading hair transplant surgeon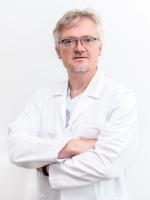 Dr Gregory Turowski MD, PhD, FACS, underwent surgical training at Yale and Harvard universities in the United States and is one of only a few plastic surgeons specialising in FUE hair restoration certified both by the American Board of Plastic Surgery and the International Society for Hair Restoration Surgery (ISHRS).He is a fellow of the American Hair Loss Association and the International Alliance of Hair Restoration Surgeons, having met the strict criteria necessary to join these prestigious, invitation-only organisations.
Working with a team of carefully-selected and highly trained professionals, Dr Turowski is skilled in the latest techniques and technologies in hair restoration, including the Artas® robotic hair transplantation system, and is committed to keeping abreast of all the latest developments in the field in order to provide the best results possible for men and women suffering from hair loss.
Why choose Dr Turowski Hair Restoration Clinic?
One of the first clinics in the world to use the FDA-approved Artas® robotic hair transplantation system
Most experienced centre in Europe for Artas® FUE hair transplantation
Provides minimally-invasive tailored hair loss solutions using the most advanced technology
All forms of hair loss treated, including hair loss due to trauma and chemotherapy
International patients who visit Dr Turowski Hair Restoration Clinic from abroad are well taken care of throughout the process. From pre-treatment planning and preparation to arrival at the facility, treatment and departure, step-by-step information is provided and customer service remains available to patients at all times to ensure that the stay in Poland is unforgettable and as stress-free as possible.

Artas® FUE robotic hair transplantation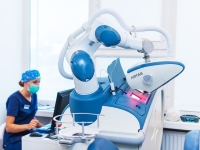 Follicular Unit Extraction (FUE) transplant involves harvesting individual hair follicles from a donor area on the scalp (usually the back of the head) and transplanting them into the hairless area. The minimally invasive method has revolutionised hair transplant surgery, producing aesthetically pleasing, scarless results with little pain and short recovery times compared to older, strip methods.
Despite its advantages, an FUE procedure can last eight hours or more.The Artas® robotic system uses computer-assisted image guidance technology to increase the number and quality of usable hair follicles gathered from a donor site, dramatically improving the accuracy and speed of FUE harvesting compared to manual extraction instruments. Indeed, this highly precise and minimally invasive technology has the ability to harvest up to 3,500 FU in a single day.
Find out more about Artas® robotic hair transplantation by watching the Dr Turowski Hair Restoration Clinic's videos.
Hair loss treatments available
Male hair transplant
Female hair transplant
Facial hair transplantation
FUE Artas® robotic hair transplant
FUE manual transplant
Afro-Caribbean hair transplant
Mesotherapy with platelet rich plasma
Mesotherapy using stem cells
TIP endocrine – assessment of female hair loss by an experienced endocrinologist
New Horizons FUE Restoration Center, USA
Dr Gregory Turowski is also Medical Director of New Horizons FUE Restoration Center in Chicago, regarded as one of the USA's top clinics for FUE hair transplantation. The Center's experienced team offer the most up-to-date treatments for hair loss, including Artas® robotic hair transplantation and the Neograft® automated hair transplant procedure.

Clinics
Clinic Katowice

Ul. Zelazna 1
40-851 Katowice
Poland

Tel: 48 608 767 231

Clinic Chicago

9843 Gross Point Road
Skokie, IL 60076
USA

Tel: 1 80-A-New-You
1 847 674 4646