PROFILE
Based on the beautiful Greek island of Mykonos, SEA Dialysis is a state-of-the-art dialysis facility designed to enable renal patients from around the globe to enjoy their holidays in total comfort, safety and with complete peace of mind.
Carefree holidays in Mykonos
SEA Dialysis is a new state-of-the-art dialysis centre situated at Aggelika Mykonos, close to Mykonos Town, the island's airport and the port of Mykonos. Next toSea Medical Health Clinic, a fully equipped primary health clinic with over 18 medical specialties, SEA Dialysis complies with European standards of health and safety and provides the highest quality dialysis services in an ultra-modern setting overlooking the Aegean Sea.
Patients can be assured that wherever they chose to stay on Mykonos, they are never further than a 30-minute drive from SEA Dialysis. Designed to the high standards of a luxury hotel, the clinic offers a seamless transition between holiday and dialysis treatment.
State-of-the-art dialysis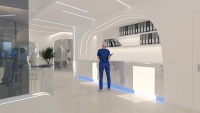 SEA Dialysis is a new custom-built facility with light, airy interiors and luxuriously decorated indoor and outdoor waiting areas for guests and accompanying visitors. The spacious dialysis stations each have a stunning view of the Aegean Sea and include air conditioning, separate lighting control, free WiFi and satellite TV. Dedicated dialysis slots are available for holidaymakers.
Patients visiting SEA Dialysis are supervised during their treatment by expert nephrologists and an experienced nursing team; languages spoken include English, Italian and Arabic. The clinic uses the latest technology from Baxter, The Artis Physio Plus multi-therapy system, which offers a unique combination of efficient HD andeffective HDF therapies to provide patients with total control over the delivery of personalised haemodialysis treatments.
Complimentary snacks and refreshments are available for patients and their accompanying visitors. Special dietary options such as vegetarian or Halal can be catered for upon prior request.
Additional services
SEA Dialysis offers a range of additional services to ensure that renal patients visiting Mykonos and nearby islands including Tinos, Syros, Naxos and Paros, have the best holiday possible:
Private transportation to and from SEA Dialysis
Private rooms with en-suite bathroomfor patient and accompanying guests
Special discounts at local businesses, including hotels
Explore Mykonos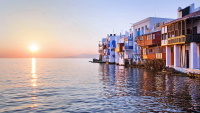 Known as 'The Island of the Winds', Mykonos is part of the Cyclades group of Greek islands, situated between Tinos, Syros, Paros and Naxos. With whitewashed houses, crystal clear beaches, fine dining, vibrant nightlife, not to mention the island's famous pelicans, Mykonos offers something for everyone, be that cosmopolitan adventures or moments of quiet relaxation.
Getting treatment
SEA Dialysis welcomes international patients with private health insurance.
Treatment is free of charge for dialysis patients from an EU/EFTA country who have a European Health Insurance Card (EHIC) or a provisional replacement certificate.
For more information on how to get treatment at SEA Dialysis, contact their friendly team at [email protected].
Legal
Documents
| | |
| --- | --- |
| | SEA Dialysis Mykonos - Brochure [ PDF 502kb] |