PROFILE
With a group of eight modern dental clinics, seven in Bucharest and one in Timisoara, DENT ESTET is Romania's leading provider of dental services. Staffed by highly trained dentists and equipped with the very latest equipment, the ISO accredited clinics provide a comprehensive range of affordable treatments for adults and children, including aesthetic dentistry, dental implants, orthodontics, oral surgery, prosthodontics, endodontics and facial aesthetics.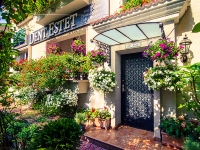 Founded in 1999, DENT ESTET comprises four dental clinics for adults, three specialist pediatric dentistry clinics and one specialist dental clinic for teenagers. The clinics offer premium dental services from a team of specialists in line with international standards and are committed to creating natural, beautiful smiles, preventing dental disease and promoting oral health.
An expert team of specialists
DENT ESTET has built a team of 88 multi-disciplinary specialists covering all fields of dentistry, including implantology, cosmetic dentistry, pedodontics, orthodontics, oral surgery and endodontics. They are able to provide a comprehensive range of basic and complex dental treatments. The dental team is internationally certified, and has access to some of the latest digital technology in dentistry.
Cutting edge dental technology
In addition to the equipment needed to provide the highest levels of professional standards, DENT ESTET has invested in their infrastructure and equipment, to be able to supply their patients with the most modern treatment techniques available. Cutting edge technology at DENT ESTET:
Planmeca ProMax® CBCT 3D computed tomography providing multidisciplinary diagnosis and accurate planning for orthodontics, maxillofacial surgery and dental implants
3shape 3D digital intra oral scanner – digital teeth prints
Digital Smile Design – technology that allows the pre visualization of a patients' smile before starting the treatment
SimPlant - digital simulation of the implant insertion before the treatment starts
ZEISS dental digital microscope - safer root canal treatment with a success rate of over 90%
Zoom® Advanced Power Lamp – 1 hour whitening treatment with plasma lamp suitable for emergencies and busy patients
Epic® Biolase – dental laser treatment for soft tissue surgery, tooth whitening and pain therapy
Digital radiology – low levels of radiation and better images that can be shared by email
Endoret PRGF technology – a process using platelet rich plasma to accelerate post-surgical healing
Oral cancer screening test – early detection of oral cancer in just 3 minutes
Sleep dentistry –dental sedation and anesthesia procedures performed in a safe, well equipped department by trained anesthetists
Dental and facial aesthetics
The internationally accredited dental and facial aesthetics team at DENT ESTET provide a range of high quality cosmetic treatments such as Lumineers, the revolutionary Fast & Fixed dental implant system, leading brand dental implants, Incognito lingual appliances, digital smile design and professional tooth whitening.
Dental treatment can be combined the same day and in the same location with the facial aesthetic procedures of the clinic's innovative Inspire® programme, which offers effective solutions for wrinkles, facial contouring and lips from a team of AAFC (American Academy of Facial Cosmetics) certified dentists.
The Bredent Fast & Fixed dental implant system is suitable for patients that want/need a full mouth reconstruction. These cases are rare, and treated as a case by case basis so may require specific conditions.
Treatments available at DENT ESTET in Romania
Dental implants - including same day implants and high tech dental implants
Aesthetic dentistry - veneers, Lumineers, Incognito lingual braces, Digital Smile Design
Dental whitening - EPIC™ BIOLASE laser, Zoom Power and Opalescence Xtra Boost
Dental prosthetics & reconstructive dentistry - crowns, bridges, veneers, dentures, dental inlays, crown-root devices
Oral surgery – sinus lift surgery
Orthodontics – Invisible, Sapphire or Ceramic braces
Microscope endodontics - root canal treatment under ZEISS microscope control
Periodontics - treatment and prevention of gum disease
Facial aesthetics – wrinkle reduction, facial contour correction, lip remodelling
Executive Dental Care® - All in one day service
Sleeping dentistry – advanced sedation and anaesthesia procedures to eliminate fear and pain
Dental hygiene – professional deep cleaning and tartar removal
PRGF Technology – accelerated post-surgical healing
3D CT Scanner – state-of-the-art Planmeca ProMax® 3D scanning
Oral cancer screening – quick and painless screening with the Sapphire Plus Lesion Detection Lamp
Waterlase laser - Laser technology that offers pain free treatments performed in a very short amount of time
The Wand anesthesia - Computer assisted anesthesia system for a painless, comfortable and less anxious treatment experience
3Shape Implant Studio software - Computer guided dental implants for maximum accuracy
Payment and insurance
DENT ESTET's dental clinics have an unique system of payment installments, designed to help the patient and it is predictable from the stages of treatment. Furthermore, they are recognised by the majority of the international insurance companies.
Legal
Videos
| | |
| --- | --- |
| | DENT ESTET - clinic video |