PROFILE
The Dental Specialists, a dental clinic based in Hyderabad,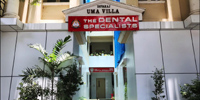 India, is a multidisciplinary dental centre boasting highly experienced staff and state-of-the-art dental facilities. They specialize in restorative dentistry, cosmetic dentistry, pediatric dentistry, orthodontics and general dentistry. Their dental surgeons are sub-specialized in a range of areas which means The Dental Specialists can offer you expert care for any dental problem you may have at an affordable price.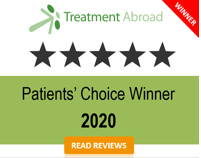 Dr Venkat Ratna Nag created The Dental Specialists in 2007 with an aim to be able to provide the best dental care internationally, expanding from Ameerpret to Banjara Hills and Kondapur. They have treated more than 10,000 patients to date, and garnered a reputation for being one of the best dental teams in Hyderabad.
Dr Venkat's perennial passion towards excellence in dentistry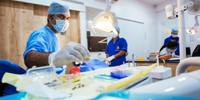 led to the creation of the concept of The Dental Specialists in 1998. Ever since, TDS has expanded phenomenally and garnered a reputation as being the finest, premier dental center that offers comprehensive treatments under one roof. TDS is the best destination for dental care, due to its advanced technology, best trained experts in every field of dentistry, top dental treatments at affordable prices, world-class equipment, high levels of treatment and sincere and dedicated staff that offer unconditional support and care to their beloved clients.
Dr Venkat Ratna Nag is a professor of Oral and Maxillofacial Prosthodontics and a Fellow and Diplomate for International Congress of Oral Implantologists, USA. He was the Joint Secretary for the third ICOI South Asia symposium in 2014. He received advanced training in maxillary sinus lift procedures and the extra maxillary approach in zygomatic and pterygoid implants, and has held countless workshops including international symposiums in Isarel, Russia, Romania, Malaysia, France, Italy, Germany and Spain.
Why choose the dental clinic in India
India is one of the best destinations for medical tourism due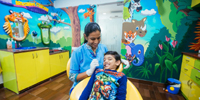 to its use of advanced technology. It also boasts some of the best dental surgeons worldwide.
Offering top dental care at an affordable price, The Dental Specialists are one of the most sought after dental centers in India due to their use of world-class equipment and the high level of treatment and care they offer.
Their dental implants will cost you up to a third of the price as the same implant from other countries such as Thailand, Malaysia or the USA.
The Dental Specialists are ranked first by Three, second in the Global Clinic Ratings and fourth in the Times of India survey (2019).
They also have a 4.9/5-star rating on both Google and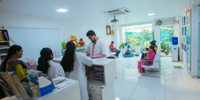 Facebook.
Their devoted staff are available 24/7 and are expert prosthodontists, implantologists, pedodontists, endodontists, oral surgeons, orthodontists, radiologists and paramedical staff.
They have good relationships with the best major hospitals in the area giving you access to excellent patient facilities, round-the-clock emergency services and the most up-to-date technology.
TTPHIL

The spectacular success of TDS is predominantly due to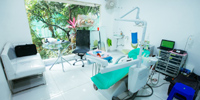 Dr. Venkat's indefatigable research that created the pathbreaking revolution in the field of implantology - the TTPHIL protocol/technique.
TPHIL, an immediate 48-hour solution to edentulousness, is a combination of the best implantation techniques in the world.
Advantages of TTPHIL (all tilt full mouth implants)
Only 6 implants per jaw to replace 14-16 teeth
Done in just 48 hours using CAD/CAM technology
Dr Venkat is highly trained, experienced and skilled in placing pterygoid implants which is the best solution for compromised bone in the upper jaw
You would be under the care of an expert specialist doctor
A third of the price compared to USA, Thailand and Malaysia
Graftless solution
Increased anchorage
An even load distribution
Long-term solution with lifetime warranty
Dr Venkat Nag, the chief implantologist, is a perfectionist and a visionary with a gentle touch.

He has served thousands of Indian and international clients in the last 12 years.

His innovative TTPHIL technique, developed and researched extensively, has been of great benefit and success, especially to patients who have bone deficiency and those who cannot travel frequently.

Under the able guidance of Dr Venkat, their team achieves the smile and dentition you always wished for.

With a noble vision to spread the benefits of TTPHIL, Dr Venkat runs the Institute of Dental Implantology, which imparts research oriented training to dentists worldwide.

Dr Venkat's only desire is to make dentistry affordable for everyone and create the smile everyone desires and deserves.
Further dental treatments offered
The dental clinic is able to treat the full range of dental problems and offer the latest cosmetic dentistry procedures such as implants, All-on-4, full mouth rehabilitations, smile makeover, orthognathic surgeries, laser treatments, laminates, invisalign, veneers and tooth jewellery.
Restorative dentistry:
Dental implants
Zygomatic implants
Basal implants
Full mouth dental implants
Oral maxillofacial prosthodontics
Oral surgery
Complete dentures
Dental restoration
RPD
Cosmetic dentistry:
Endodontists
Invisalign
Bleaching
Dental veneers
Periodontics/gum problems
Dental braces
Teeth whitening
Fluoride stain removal
General dentistry:
Tooth extraction
Removable partial dentures
Dental braces
Wisdom tooth removal
Apisectomies
Operculectomies
Endodontics
Invisalign
They also have dentists specialized in pediatric dentistry, offering pulp therapy, and can carry out various orthodontic procedures.
They use a range of different dental implants such as TTPHIL, basal implants, mini dental implants, single piece implants, single stage implants, two stage implants, two piece implants, basal osseointegration, tubero pterygoid implants and zygomatic implants to ensure that you get the best implant to suit your needs.
The Dental Specialists boast a success rate of over 99% in dental implants.
International patients
The Dental Specialists have a customer relations management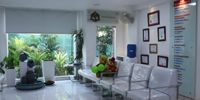 team dedicated to creating personalized treatment packages for you.
These packages include complimentary access to interpreters, tourism services, accommodation, flights and itinerary.
Their team will ensure that you feel happy and comfortable during your stay, looking after your needs during your visit to the clinic, and giving you tourist advice if you want to see more of India's culture.
For your ease, you can have your initial consultation online or over the phone.
You will receive a treatment plan, the best time for your treatment will be agreed and an affordable price will be decided with you.
Locations
The Dental Specialists operate out of three locations in Hyderbad, India.
Road no. 10, Near Star Hospital, Banjara Hills, Hyderabad, India, 500034
Challa Dental Wing, Challa Hospital, Dharam Kharam Road, Ameerpet, Hyderabad 500016
Plot no. 131/A, 132/A, Ground Floor, Loukya Heights Complex, Masjid Banda, Botanical Garden Main Road, Opposite to Prime Legend Apartments, Kondapur, Hyderabad, 500084
The Dental specialists are an official Patients' choice awards 2019 winner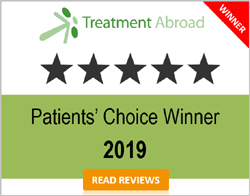 Opening hours
Legal
Videos
| | |
| --- | --- |
| | PATIENT TESTIMONIAL VIDEO |
| | BEST DENTAL IMPLANTS IN INDIA |
| | J.N from Australia | VIDEO TESTIMONIAL | |
| | J.R.C | VIDEO TESTIMONIAL | |
| | Mr. K | VIDEO TESTIMONIAL | |
| | L M | VIDEO TESTIMONIAL | |
| | P F | VIDEO TESTIMONIAL | |
| | VIDEO TESTIMONIAL IN AFGHAN |
| | VIDEO TESTIMONIAL IN FINNISH |
| | WHY SCREW RETAINED CROWN IS BETTER THAN CEMENT RETAINED |
| | The Dental Implants |
| | TTPHIL ALLTILT PROTOCOL: NEW TEETH IN JUST 2 DAYS |