PROFILE
Shiny White Dental Center is a state-of-the-art dental implant centre located in Cairo, Egypt. Led by Dr Shady Ali Hussein, the clinic provides a comprehensive range of services designed to restore the perfect smile, including dental implants and fixed dentures, All-on-4, dental crowns and veneers, Hollywood Smile, endodontics, oral maxillofacial surgery, orthodontics, periodontics and children's dentistry.
High quality dental care
Equipped with the latest technology and with an experienced team, Shiny White Dental Center offers high quality dental treatment in line with international standards. The customer and their needs are at the heart of everything that they do, and every effort is made to exceed all expectations.
International clients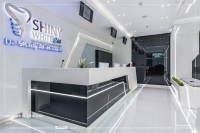 Shiny White Dental Center welcomes international clients, taking care of arrangements such as hotel reservations, clinic transfers and airport pickups.
Initial appointments are scheduled by the clinic's call centre and confirmed 24 hours prior to a visit. Upon arrival, all patients undergo a diagnostic digital 3d X-ray or Cone Beam CT. This provides essential information such as identifying hidden decay, abscesses or cysts, as well as on how to plan for root canal treatment and dental implant placement.
The diagnostic process is concluded with an assessment of the patient's vital signs, including hypertension, diabetes and heart rate, as these are all important factors that should be included in planning the best treatment pathway for each individual.
Note on prices: Prices listed on this page are subject to extra discount in cases of online reservation.
Services available
Dental implants and fixed dentures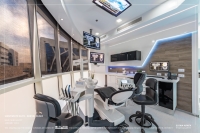 Dental implants are the perfect solution for replacing missing teeth. Unlike traditional removal dentures, they are fixed and stable, and Shiny White's combination of implant and aesthetic crown restores a natural smile and rejuvenates the facial appearance.
Dental implantation is carried out at Shiny White using the latest advanced technology to ensure pain-free, precision placement. The clinic also offers the sinus lift procedure, making dental implants an option for patients who are found to have insufficient bone in the upper jaw.
Hollywood Smile
Hollywood Smile treatment is suitable for teeth that are damaged by infection, abscess or trauma. In a computer-planned, pain-free process, the affected pulp is removed from the tooth using a precision endodontic microscope. The tooth is then filled with a biocompatible material and capped with a crown to increase its strength and durability.
All-on-4 implant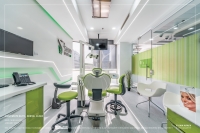 The All-on-4 implant is an ideal option for patients with a lack of teeth in either jaw. Avoiding the need for extensive preparative surgery, the process involves the placement of four special implants. Fixed dentures are then placed on the implants, restoring both functionality and aesthetics.
All-on-6 implant
With 12 teeth in each jaw, more natural look, and reasonable chewing power.
All-on-8 implant
A full set of 14 teeth in each jaw with a full chewing power.
Dental crowns and veneers
Shiny White offers treatment with natural-looking, durable dental crowns and veneers. Crowns are a suitable treatment in cases such as advanced tooth destruction, discoloured and stained teeth, crowded and short teeth, teeth with large fillings, missing teeth replacement using dental bridges, dental implant coverage, root canal treatment and tooth fracture that cannot be fixed using dental fillings.
Shiny White's crowns and veneers are highly aesthetic, as well as providing excellent function. They are all designed and milled using advanced computers in the clinic's own laboratory. Teeth are prepared for the process using microscopes and loupes, to protect the tooth as much as possible.
Scaling and polishing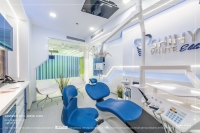 Removing plaque and calculus protects from gum disease and bone degeneration, as well as eliminating bad breath and improving the aesthetic appearance of the teeth.
Shiny White uses digital 3D X-ray to identify pockets and affected teeth. A special ultrasonic device is then employed with antimicrobial irrigation to eliminate bacteria. Finally, polishing is carried out with a special brush mixed with abrasive toothpaste that works deeply on the tooth surface to keep it shiny and clean.
Endodontics
Shiny White provides pain-free root canal treatment in cases of infection, abscess and trauma. Rotated or misaligned teeth are also root canaled treated before a dental crown is placed.
Following identification on digital 3D X-ray, root canal treatment is carried out in a digitally planned procedure using precision endoscopic microscopes. The procedure only requires a single visit.
Oral maxillofacial
Shiny White offers expert treatment of oral maxillofacial conditions including impacted or unerupted wisdom teeth, oral and maxillofacial trauma, and temporomandibular joint (TMJ) disorders.
Kids teeth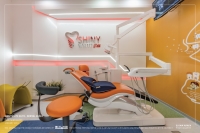 Shiny White provides partial and full coverage dental plans for children, designed ensure that their teeth develop in the right way. Kids teeth services available include zircon or stainless steel crowns to prevent tooth extraction of carious teeth, pulpotomy or pulpectomy, space maintainers and orthodontics.
Braces
Problems with bite can be the cause of headaches, jaw pain and clicking. Shiny White offers orthodontic treatment for the full range of problems affecting bite, including overbite, underbite, crowding, openbite, excessive spacing, crossbite, abnormal eruption and impacted teeth.
Gum redness and bleeding
Shiny White offers periodontal treatment to treat and prevent gum disease, as well as aesthetic procedures to remedy problems such as a gummy smile or asymmetrical gingiva leading to teeth of different heights.
Locations
Shiny White Dental Center has branches in four areas of Cairo in Egypt: Nasr city, Fifth Settlement, Maadi, and Shiekh Zayed city.
To make an appointment call Hot line: 19416 or Mobile: 0020 (0)1010630456 (Whatsapp), or fill out the online contact form.
Image
Languages spoken
Opening hours
| | |
| --- | --- |
| Mon: | 10:00 – 22:00 |
| Tues: | 10:00 – 22:00 |
| Wed: | 10:00 – 22:00 |
| Thurs: | 10:00 – 22:00 |
| Sat: | 10:00 – 22:00 |
| Sun: | 10:00 – 22:00 |
Legal