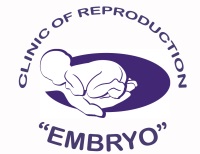 Embryo

Infertility clinic in Krasnodar, Russia
About Embryo
Embryo Clinics Russian Reproduction Centre was opened in 2008 in Krasnodar in the south of Russia. It is a subsidiary company of the famous Reproduction Center functioning under the same name in Minsk (Belarus) since from 2001. Assisted reproduction services include infertility treatment, IVF, ICSI, IUI, ovulation induction, PGD and ultrasound screening.
Both clinics perform their work in close collaboration with the Chicago Institute of Reproductive Genetics, directed by Mr Verlinskyi, a pioneer in the field of preimplantation genetic diagnostics (PGD).
Embryo has rapidly gained the confidence of patients, receiving not only regional visitors but also couples from remote districts of Russia and foreign countries such as Ukraine, Azerbaijan, Armenia, USA, Croatia, and Poland.
As a testament to this, in 2009 the clinic was awarded the Crystal test tube national prize in nomination All roads lead to us. In 2013 they were recognised as "Best clinic in South Federal region of Russia" in the same national competition.
The team of gynaecologists and fertility specialists at the clinic achieve high success rates in resolving reproductive problems through the implementation of up-to-date scientific methods, regular control and improvement and modern equipment.
In 2012 Embryo Clinics reproduction centre took the lead in holding the annual congress of the Russian Association of Human Reproduction hosted in the Krasnodar region.
International infertility patient services in Krasnodar, Russia
At Embryo Clinic in Krasnodar they offer assisted reproduction technologies to foreign patients, some of which are legally prohibited in their countries.
These include IVF/ICSI with transfer of one or several embryos into the womb, egg and sperm donation, preimplantation genetic diagnostics and surrogacy. These, together with a tailored approach to your reproductive problem and affordable prices, are reason enough for you to go to Embryo for assisted reproduction and infertility treatments and thereby enhance your chances of becoming parents!
They are ready to take special care of overseas patients before and during their stay. You can book your first consultation via Skype and get all possible help from their coordinators concerning accommodation, documentation (eg visas), transfer from the airport etc. Interpreter services and legal advice are available on request.
Fertility and reproductive medicine treatments available
Treatments available include:
Treatments
Internet details